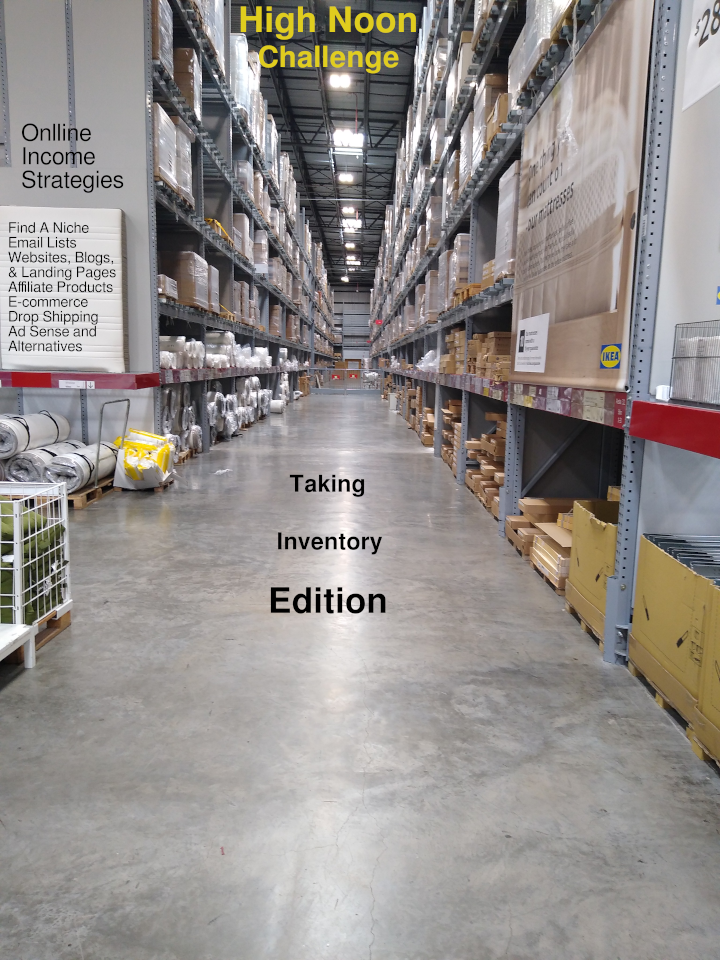 Taking Inventory
Welcome to the High Noon Challenge Taking Inventory Edition. Today we will be taking inventory on all the online income streams we have explored over the years in order to home in on the next strategy to add to our arsenal of online streams.
Stategy Summary List
Find a Niche
Create an email list and send them your product/affiliate offers
Create a website, blog and or landing pages to promote your product/affiliate offers
Find affiliate products to promote on amazon, jvzoo, crypto sites, or other sites.
E-commerce: Sell your own products or products you purchase from others on amazon, or other sites
Drop shipping: Sell products using drop shipping where inventory is created and managed by a 3rd party. Coffee mugs, seasonal products, etc.
Find A Niche
Finding a niche is perhaps the most important aspect of creating a compelling online presence. It is in a sense finding what you are good at and capable of communicating to your blog readers. Initially finding a niche is primarily finding a subject you know well and can write about as an expert. However this does not have to be the case any more as you can simply choose a niche for example sports and then find an affiliate that already has the content and use their premade content to promote and get your share.
Create An Email List
Creating a mailing list is a proven method to get content in front of your customers. A list can be created by having a subscribe box on your website, advertising on someone elses already established list, or purchasing email lists some other methood. Once you have a reasonable sized list of subscribers you then pitch your affiliate sales to your list/lists. E-farming is a new term for automating this system.
Create A Website Or Landing Pages
Creating a website, blog, or landing pages allows you to write and promote just about anything. A website is generally driven by a niche subject of expertise in the form of articles or blog posts. The email list can be promoted here with a subscription box made highly visible. A landing page is usually a product specific page used for affiliate programs or special product offers. Clickfunnels and leadpage are 3rd applications that allow you to create leadpages without having to create a website.
Adding Ads to your site or using Adsense or alternatives
A more passive way to monitize your site is to place ads for other websites or use adsense or an alternative. Adsense is a google product where you place ad banners on your site and google automatically places ads related to your site or related to the users interest who is browsing. An example alternative is
A-ads
which is a crypto currency ad network.
E-commerce
E-commerce is basically selling products online using your own online store front. A friend of mine has a comic book business and a large portion of his sales are online. He has used wordpress for a website and the woo commerce e-commerce plugin. He has recently moved to using shopify because wordpress needs constant updates and that has caused him to many problems.
Drop Shipping
Drop shipping allows you to create and sell products without have to deal with phisical inventory. For example there are sites that will allow you to upload artwork and they print that artwork on a T-shirt or a mug and they provide the store as well to sell your product. Here is an example by
3rdeye.vision
on printify.
Get Your Online income Stream Streaming
Online income streams can be made from many approaches. Find your niche by knowing what you are good at. Create an online presence with Websites, Landing pages and email lists. Sell products and affiliate offers using E-commerce, Drop shippping and affiliate marketing. Use the strategies that best suite your style and niche. Happy Online income streaming!